Cloud Migration, Monitoring and Management.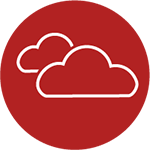 We will help you move to the cloud with ease whether by migrating and monitoring an existing product or developing a completely new application.
The growing importance of cloud computing and the move to hybrid IT are encouraging organizations of all sizes to migrate systems infrastructures out of the physical data centre, whether they are really ready or not.
Your organization must be prepared to test any workload, application or infrastructure before migrating, in order to precisely measure how it will work in the cloud and what support it will need from the cloud service provider (CSP). It is necessary to implement a comprehensive monitoring tool that provides visibility not only in your on-premises systems but also in the cloud, to help establish baseline performance metrics that make it easier to identify whether a workload should stay in place or in the cloud.
Cloud migration, management and monitoring services:
Migration of applications to the cloud: hosting applications in the cloud, re-engineering applications to the cloud or using COTS cloud options.

Public, private and hybrid services in the cloud: options include public cloud hosting such as Amazon Web Services and Microsoft Azure or private cloud hosted by the customer.

Implementation of COTS software for cloud: applications readily migrated to the cloud include Microsoft SharePoint on demand and SAP on demand.

Use of virtual machines in the cloud for development, testing and training: includes support and testing for large-scale web applications, such as e-commerce sites.

High-performance computing (HPC): HPC applications that require significant processing power and 'on-demand' are great for migrating to the cloud, such as big data applications.