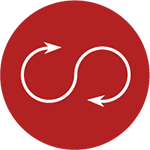 Our team will help you with planning and implementing an effective Business Continuity Management Framework!
Business Continuity Planning is best described as the processes and procedures that are performed by an organization to ensure that essential business functions continue to operate even during or after a catastrophe.
This type of planning allows services to be promptly restored and to be fully operational in the fastest and smoothest way possible. In practice, the question that must be asked is, "If we lost everything today, how could we restart our business?".
Why is business continuity management so important?
Let's start by remembering how the effects of a disaster can primarily affect a business. Shutdowns caused by power shortages or the internet can devastate the company, preventing customers from using its products and services long enough to give up on them. The result is a bad image for the company.
Now imagine catastrophic situations on a large scale, like floods or fires. This can leave the company inoperative for a long time and, if it cannot resume operations quickly, the effects mentioned above will be multiplied, as physical assets will also be hit, further delaying recovery.
A business continuity plan is essential in this sense because, in addition to preparing conditions and professionals to deal with emergencies, it takes into account what will be necessary for the business to return to work as soon as possible.
An effective business continuity plan based on best practices should generate the following benefits for the company:
Allow the recovery of data and systems within a short time;

Help the company to comply with its legal and statutory obligations;

Minimize the effects of an unplanned outage;

Raise confidence levels for the services provided;

Preserve the company's brand and image;

Reduce the risk of financial losses.