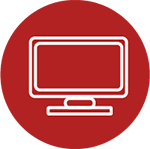 We have all the knowledge and expertise required to design and establish a new network or to support and extend your current network and can offer both local and remote networks solution.
The Network Design service provides all the technical support necessary to plan, develop, deploy and manage changes to the network topology or the configuration of parameters in equipment, ensuring that the solution operates according to the requirements defined by the customer with minimal impact during implementation.
The physical and logical topology of the network is al assessed to understand how to design the network to discover and fill gaps or weaknesses in security. In deciding on the logical topology, the layout security policy is considered as well as the parts of the network which are less reliable than those which are more reliable. Besides, device group and user assessments are performed to understand what should be grouped and what should be separated.
IT and IT security assets, including servers, routers, and firewalls, are mapped to understand traffic flow to optimize configuration and simulate security threats to understand how they will be dealt with effectively in the design.
Some benefits of network design:
Reduction in risks arising from activities for carrying out changes to networks or parameter settings, ensured by expert guidance;

Reduction in costs for installations and configurations of networks, equipment, and systems, ensured by the proper planning and technical support of specialized consultants throughout the process;

Ensuring compliance with the technical specifications of each equipment or system and the network's operating parameters, minimizing future impacts on its maintenance and management;

Review and update guarantee throughout the process of all applicable documentation;