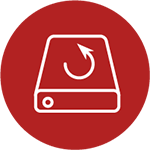 With our professional cloud backup solution, you won't have to worry about data loss!
The entire backup must be an automated process; however, there must be efficient management, capable of monitoring, correcting, adjusting, and auditing the routines and processes involved. We are aiming to maintain compliance with the business continuity plan.
A company's information data is such a precious asset that its importance cannot be measured. Its loss without the possibility of recovery can cause significant losses or even make the business unfeasible.
The backup is a prevention process of vital importance to the organization, being the only safe way to recover data. Regardless of how they were lost, due to data corruption (electrical and software failure), accidental deletions (exclusion performed by some user), or physical failure of the equipment.
Our file backup solutions comprise several features that guarantee the security of your company's data.
Optimal backup routines:
Local backup and integrated into the cloud

Guaranteed availability

Unified solution to protect on-premises and cloud data

Trusted external backup destination

Efficient incremental backups

Security for data that is encrypted in the stream and stored

Geographically replicated backup storage
Efficient solution:
Backups are performed efficiently both on the network and on the disk (local);

After the full backup that is performed the initial propagation, only incremental changes will be sent according to the defined frequency;

Integrated features like compression, encryption, long-lasting retention and bandwidth limitation that help improve efficiency;
Some other ways and tools can help your company protect your data. We can assess your need for backup solutions in a planned and secure manner.
Count on us to help you and your company choose to implement and audit your backup routines.